Making Disks for the Praxinoscope
1) Cut 12 inch square pieces of paper. Score diagonals from the corners to find the center.
2) Using a compass set with a 6" radius, score a circle round the center point.
3) Use the compass set at the same radius to mark off the circle into sixths.
4) Draw lines from each mark on the circumference to the next to form a hexagon. Draw a light line from one mark on the circumference through the center point to the mark on the opposite side of the circle. Connect all six points so you have six wedges.
5) Find and mark the midpoint of one facet of the hexagon. Line up the straight edge with that point and the circle's center point to find the midpoint on the opposite side of the circle. Draw a line along it that intersects the circumference on both ends.
6) Using the compass with radius set at 6 inches, place the point at one of the intersections of that line with the circumference to score an arc to find the midpoint of the next hexagon side. Continue to score arcs to find the midpoints of the other hexagon facets.
7) Draw lines connecting each midpoint with its opposite, making sure the lines intersect the circumference on both ends. This makes a dodecagon, a 12-sided polygon with 12 wedges, or frames, in which you can animate imagery.
8) Trim the excess paper by cutting along the circumference or cutting straight along each of the 12 sides.
9) Punch a 1/4 inch diameter hole in the center of the disk.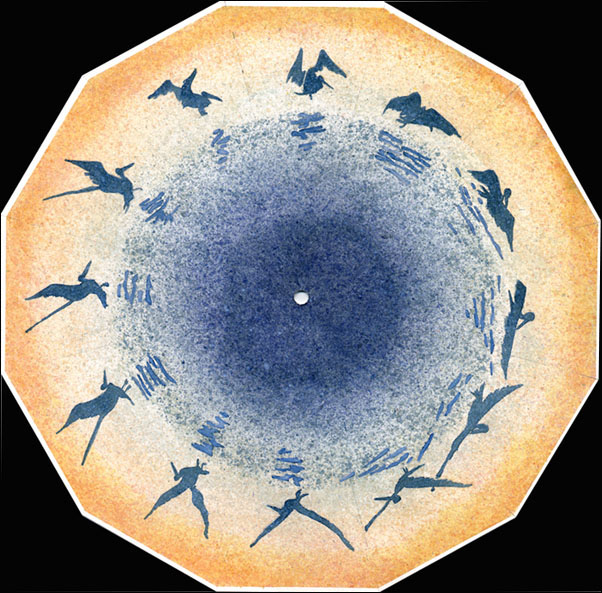 Pelican Spatter Study, watercolor imagery rotoscoped from 16mm film footage, 2009.